EarthQuaker Devices
Space Spiral V2 Modulated Delay Pedal
Delay Effects Pedal with True Bypass, Analog Dry Signal, Digital Wet Signal, 600ms of Delay Time, and Flexi-switch for Momentary or Latching Operation
Analog-voiced Delay for Sonic Adventurers
The EarthQuaker Devices Space Spiral V2 is an analog-voiced digital delay pedal with a ton of tone-shaping potential that will appeal to the most sonically adventurous. Now in its second generation, this version gains a flexi-switch — hold it for momentary operation or tap it to toggle on/off. The Space Spiral V2 utilizes a digital engine to deliver up to 600ms of oil-can-style analog-voiced repeats. The onboard variable waveshape LFO enables you to craft the character of the repeats from a "soothing triangle shape" to a "choppy square shape." And all the Space Spiral V2's aural power comes to you from the forward-thinking circuit tweakers at EarthQuaker Devices.
Analog-voiced delay
The Space Spiral V2 utilizes the power of a digital delay engine to get the most from its dark and ethereal repeats. And unlike many analog delay pedals, the Space Spiral V2 is able to deliver anything from 30ms to 600ms of delay time. And while a digital soul lies within the Space Spiral V2, the pedal boasts a 100% analog dry signal path. This, combined with the pedal's true bypass switching, ensures your instrument's tone stays pristine whether the pedal is engaged or not.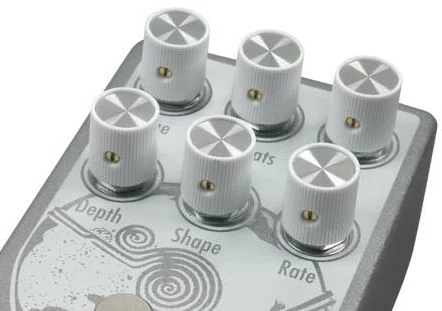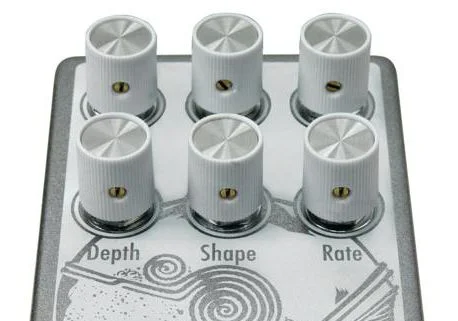 Variable waveshape LFO
The power of the EarthQuaker Devices Space Spiral V2 modulated delay effects pedal goes far beyond its warm and ambient core tone. The Space Spiral V2 boasts a variable waveshape LFO that can drastically change the style and character of the pedal's repeats. The Depth and Shape controls interact with delay controls to go from a familiar-sounding effect to a hard-edged repeat that can provide a great rhythmic effect. There are a lot of sounds onboard the Space Spiral V2, and Sweewater is excited to hear the creations you come up with.
Handbuilt by the pedal gurus at EarthQuaker Devices
EarthQuaker Devices is a small boutique guitar pedal company located in Akron, Ohio. Every EarthQuaker pedal you buy from Bill's Music
was built by real human hands using premium components. EQD's pedals range from enhanced classics, like the Park Fuzz, to effects that no ear has heard before, like the Rainbow Machine. Whatever sound you're after, founder Jamie Stillman and his team of pedal gurus are dedicated to building a box to help you achieve it.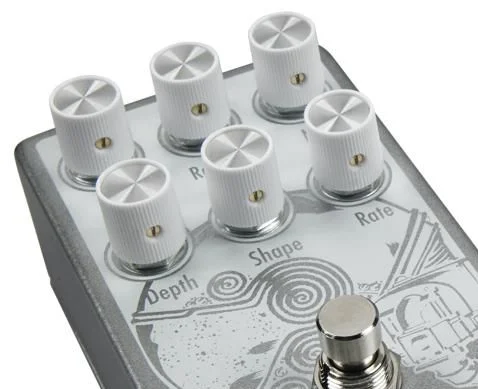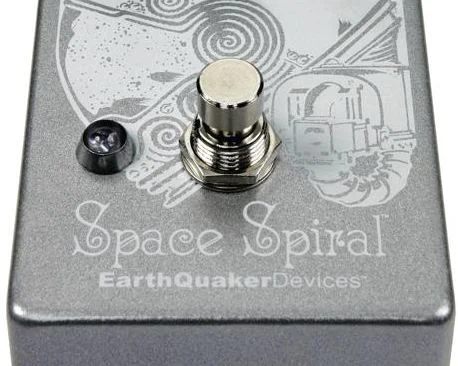 EarthQuaker Devices Space Spiral V2 Modulated Delay Pedal Features:
Analog-voiced digital delay with powerful control for modulating repeats
Flexi-switch for momentary or latching operation
Delay times from 30ms to 600ms
Variable waveshape LFO affects the tone of the repeats
Clear-sounding true bypass switching
Controls for Time, Repeats, Mix, Depth, Shape, and Rate
All-analog dry signal path
All-digital wet signal path
Tech Specs
Pedal Type:

Modulated Delay

Analog/Digital:

Digital

Max Delay Time:

600ms

Inputs:

1 x 1/4"

Outputs:

1 x 1/4"

True Bypass:

Yes

Power Source:

9V DC power supply required (sold separately)

Power Usage:

50mA

Height:

2.25"

Width:

2.5"

Depth:

4.75"

Weight:

0.66 lbs.

Manufacturer Part Number:

EQDSSV2