Korg
Volca Kick Analog Bass/Kick Generator
Analog Synthesizer Optimized for Kick Drum and Bass Sounds, with Extensive Onboard Control, Step Sequencing, Automation, Swing, Sync I/O, and MIDI In
Korg adds booming bass drops and pounding kick drums to its Volca range with the Volca Kick analog kick generator. Based around the resonant filter circuit from Korg's MS-20 synthesizer, Volca Kick delivers powerful low end for big bass and powerful percussion. It's a natural choice if you're producing trap, drum 'n' bass, dub, hip hop, or other sub-heavy genres. And with control over envelope and tone, plus a built-in overdrive circuit, it's got the flexibility to generate kicks and bass effects appropriate for any style of electronic music. Whether you're performing live with an arsenal of synths, or sampling sounds within your DAW, the Korg Volca Kick delivers powerful analog kick and bass.
MS-20 Resonator filter for aggressive sound shaping
Korg has gotten a lot of mileage out of their MS-20 filter circuit, and for good reason: producers around the world love it for its aggressive character and wide resonance range. You'll find it in the Volca Kick, and it can sound as subtle or extreme as you'd like. It's common to use pitch and filter modulation when crafting kick drum sounds, and the Volca Kick simplifies this down to three knobs in the Resonator section: Pitch, Bend, and Time. Once you've dialed in the Amp Envelope and Pulse settings to get your sound started, start playing with the Resonator section to really make it something special.
A smart tool for stage or studio
Instead of searching through sample libraries or presets for the "right" kick drum sound, why not just craft your own? It's not a new concept, but the Korg Volca Kick makes it easy to generate a huge range of kick and bass sounds, and also sounds undeniably fat.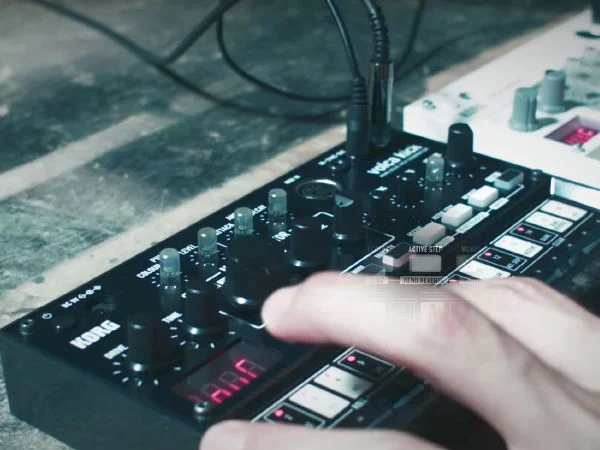 Equally equipped for kicks and bass
You can morph the Volca Kick from a punchy, overdriven kick sound to a smooth, booming bassline just by turning a few knobs. It's got a ton of sonic range is what we're saying, and it's equally suited for percussion sounds and bass sounds. When you're generating kick sounds, experiment with the Motion Sequence to add subtle (or extreme!) variations to parameters like Pulse Color and Level for dynamic effects. When you're creating bass sounds, play around with the Accent and Slide functions on the sequencer to create 303-style patterns.
Power options provide portable creativity
Like the rest of the Volca series, Korg's Volca Kick is designed to run for hours off six AA batteries. That makes it ideal for laying down beats at the coffee shop or throwing down for impromptu tabletop sessions. There's even a mini speaker onboard, so you can ditch the headphones and share the fun. On that note, the included sync cable makes sharing the fun across modules easy by keeping everything locked to the same beat. Know you're in for a longer session and don't want to chew through batteries? No worries — just pick up a Volca Power Supply and you're good to go as long as you like.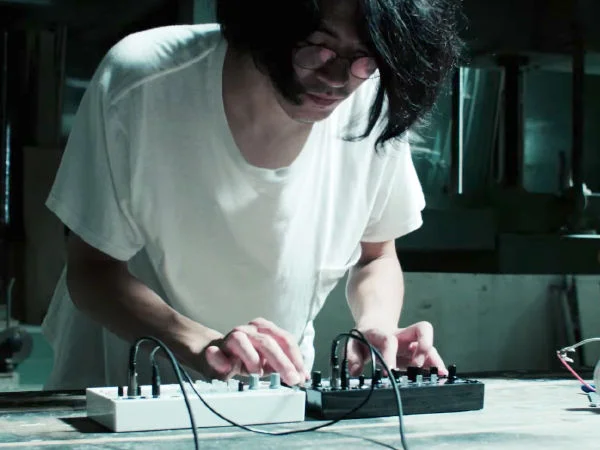 Korg Volca Kick Analog Kick and Bass Generator Features:
Analog synthesizer optimized for kick drum and bass sounds
Ready to integrate into your rig with MIDI In and Korg Sync I/O
Touch FX sequencer for creating stutters and breaks on the fly
Creative sequencing potential with Active Step, Accent, Slide, and Bend Reverse functions
Motion Sequence records parameter changes and loops them along with your sequence
Operates on 6 x AA batteries or Volca Power Supply (not included)
Tech Specs
Pads:

16 touch sensors

Sounds:

Analog kick/bass sounds (MS-20 Resonator)

Patterns:

16

Sequencer:

16 steps

Headphones:

1 x 1/8"

MIDI I/O:

In

Other I/O:

2 x 1/8" (sync in,out)

Power Source:

9V DC power supply (sold separately) / 6 x AA batteries

Height:

1.81"

Width:

7.60"

Depth:

4.53"

Weight:

13.3 oz.

Manufacturer Part Number:

VOLCAKICK