On-Stage Stands
MBS5000 Desk-mounted Broadcast Microphone Boom Arm
Articulating Mic Boom Desk Arm with "C" Clamp and Preinstalled 10' XLR Cable
If you're a broadcaster or voice artist, the last thing you need is a tripod stand cluttering up your workspace. The On-Stage Stands MBS5000 tips its hat to professional broadcast studios with a clever space-saving design. Now you'll always have a microphone ready for podcasting, narration, streaming, or talkback use. Pull in your microphone when you need it, then push it away when you're through, leaving your desk or console a
tabula rasa
for creativity. The On-Stage Stands MBS5000 supports microphones up to 3.5 lbs. — stout enough for serious broadcast mics. The integrated XLR cable is another way this microphone boom arm keeps your recording space clean.
Perfect for podcasters, vloggers, and voice artists
Today's broadcaster wears many hats. Not only do you provide the voice talent, but also the editing and post production. The On-Stage Stands MBS5000 positions conveniently near a script or monitor while you perform, then pushes away while you edit.
"C" Clamp base mounts directly to desks
Tripod stands have their place. But if you're serious about broadcasting and production work, invest in a stand that's skimpy on real estate. The On-Stage Stands MBS5000 attaches to work surfaces up to 2" thick.
ntegrated cable keeps workspaces tidy
Its built-in XLR cable is just another way the On-Stage Stands MBS5000 keeps your studio space tidy. The cable disappears into the stand and ensures however far you extend the boom, you won't get tangled up in cord.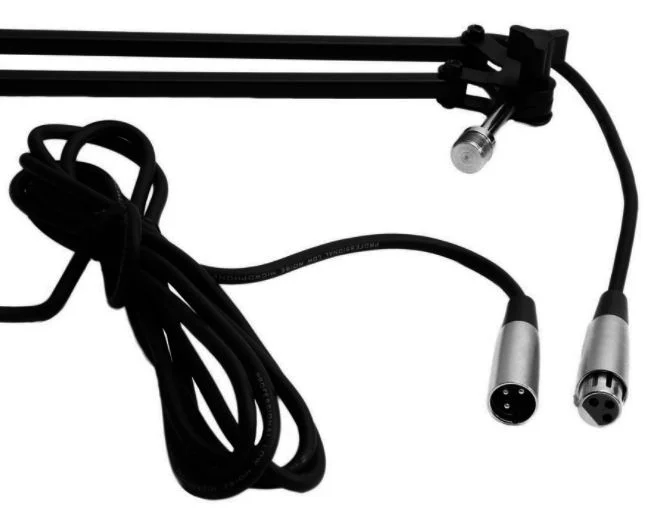 On-Stage Stands MBS5000 Professional Broadcast Boom Arm Features:
Perfect for podcasting, vlogging, narration, and talkback use
Quiet, stable, and professional
Keeps workspaces tidy
Integrated 10' XLR cable stays hidden
"C" clamp secures to desks up to 2" thick
Supports microphones up to 3.5 lbs.
Vertical arm length: 19.5"
Horizontal arm length: 19.5"
Total reach: 38"