Yamaha
NTX1 Nylon String Acoustic-Electric Guitar - Natural
Nylon-string Acoustic-electric Guitar with Spruce Top, Nato Back and Sides, Nato Neck, Walnut Fingerboard, and Electronics - Natural
This Transition Nylon-string Is Geared for the Stage
Electric and thinline players can have trouble adapting to the necks, nuts, and bodies, and actions of traditional nylon-string guitars. But the Yamaha NTX1 lineup seeks to rectify this awkward transition by blending mature plugged-in classical tones with precision comfort and playability for the stage. The NTX1's slim nato wood body features a solid Sitka spruce top with an advanced undersaddle pickup system to supply satisfying plugged-in tone anywhere you play out — from the coffee shop to the club. The modern neck profile puts plenty of space between your palm and fingers to facilitate lead and chord work without cramping. You also get a slimmed-down 1-7/8" nut spacing for an easier transition between axes, along with a genuine walnut fingerboard with ultra-flat 23-5/8" radiusing to supply classic nylon-string phrasing and momentum.
Solid tonewood construction
The Yamaha NTX1 is built from premium solid tonewoods, including Sitka spruce for the top and nato wood, a mahogany alternative with nice natural figuring. This design takes advantage of the natural resonance of the woods to create a rich and memorable playing experience. Built by master craftsmen with the best woods available, you can be assured that this Yamaha nylon-string is every bit the purebred classical guitar it takes after.
Optimized bracing system
Yamaha's team of luthiers delved deep into the science and art of bracing design when developing the NTX1. Through thoughtful experimentation and precise measurement, they identified opportunities to refine the NX bracing system, enhancing the low-end resonance of the instrument and drawing out more of the natural character of the selected tonewoods and qualities inherent to specific body shapes.
Onboard electronics
Your NTX1 is ready to plug in and play out. Its undersaddle pickup is powered by an advanced Yamaha preamp system, with onboard 3-band EQ to let you sculpt your sound from the stage. The NTX1 also features an onboard tuner, so you can leave your pedals at home.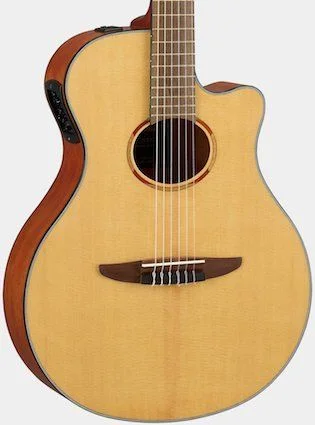 Yamaha NTX1 Nylon-string Acoustic-electric Guitar Features:
A transition nylon-string that's geared for the stage
Blends mature plugged-in classical tone with precision comfort and playability
Premium solid tonewood construction
Advanced NX bracing enhances low-end projection
Sitka spruce top provides a dynamic, expressive voicing
Slim nato wood back and sides
Modern-profile nato wood neck
Flat 23-5/8" radiused fingerboard
Slimmed-down 1-7/8" nut spacing
Undersaddle pickup system with 3-band EQ and tuner