Ibanez Prestige AZ2202A Electric Guitar - Tri Fade Burst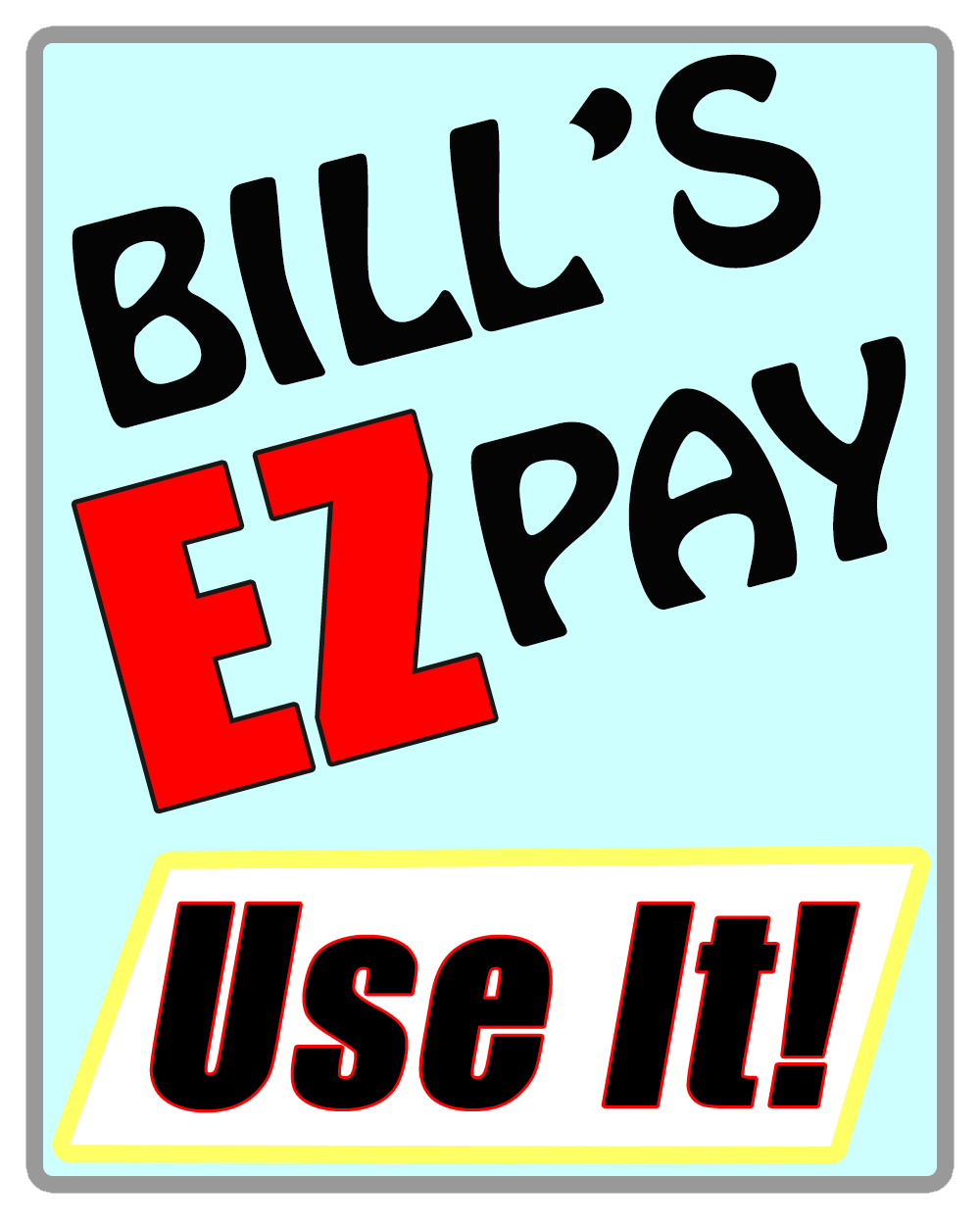 Ibanez Prestige AZ2202A Electric Guitar - Tri Fade Burst
Product Description
Ibanez
Prestige AZ2202A Electric Guitar - Tri Fade Burst
Solidbody Electric Guitar with Ash Body, Roasted Maple Neck and Fingerboard, Gotoh T1802 Tremolo, and 2 Humbucking Pickups - Tri Fade Burst
Deluxe Sound and Sophisticated Styling
Gorgeously styled with a classic sound, the Ibanez Prestige AZ2202A offers a deluxe playing experience for discerning guitarists. Featuring an S-TECH WOOD roasted maple neck, the AZ2202A feels sublime in hand and makes for smooth movement up and down the roasted maple fingerboard, for easy fretting and effortless runs. The Gotoh T1802 tremolo system has unparalleled responsiveness for delicate vibrato and rock-solid tuning stability for accomplishing dramatic dive-bombs without dropping out of tune. Seymour Duncan passive humbuckers deliver a balanced sound with a slightly vintage inflection that excels at creamy clean tones and crunchy, rock 'n' roll overdrive.
Exceedingly playable S-TECH WOOD roasted maple neck
The AZ2202A's roasted maple neck was subjected to Ibanez's S-TECH WOOD nitrogen-heating treatment, which increases its stability, durability, water resistance, and tolerance to temperature changes. The neck is then sealed with oil, resulting in a well-played feel. And it's supremely comfortable — its fingerboard edge was finished with a smooth curve that extends through the border between the fingerboard and the neck to the fingerboard itself. Beyond that, this guitar's AZ oval C-shaped neck fills your hand nicely at the lower frets while providing a more modern feel when playing up high.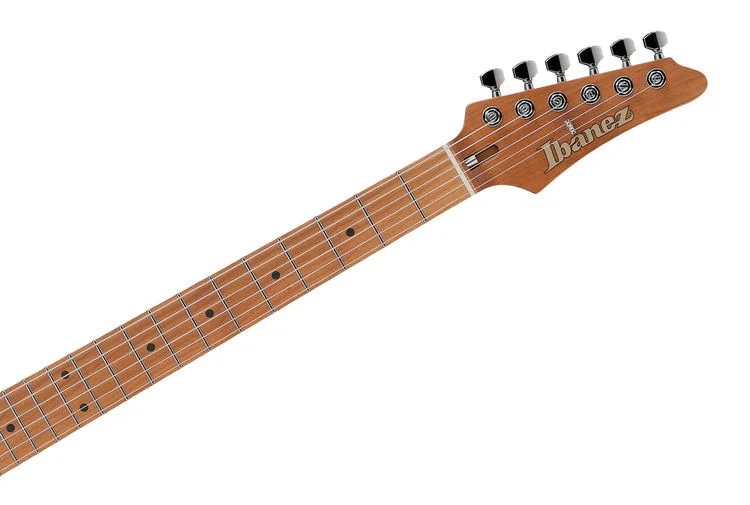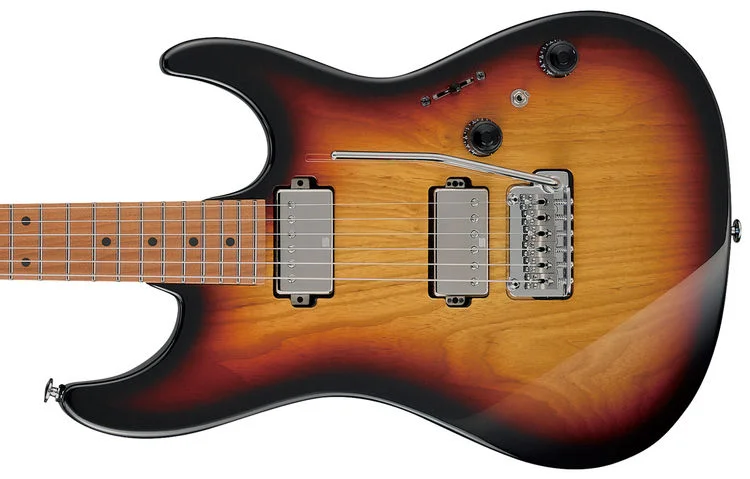 Gotoh T1802 tremolo provides excellent tuning stability
Developed in collaboration with Gotoh, the AZ2202A's T1802 allows for effortless string skipping and hybrid picking thanks to narrow string spacing. Loading the guitar's tremolo arm is a breeze by virtue of the T1802's snap-and-hold socket, and its arm torque adjuster allows for fine adjustments without any tools. The T1802's stud lock screws lock the stud bolts in place, enhancing the instrument's resonance and providing excellent tuning stability. Beyond that, the T1802's 2-point floating tremolo system achieves an astoundingly smooth tremolo motion in either direction.
Seymour Duncan Hyperion humbuckers yield an endless array of tones
The Ibanez AZ2202A's Seymour Duncan Hyperion humbuckers are among the most balanced-sounding pickups we've heard. These passive humbuckers yield a moderate output and sport Alnico V magnets, which preserve the clarity of your fundamental tone in high-gain situations. You'll also benefit from a dynamic and clear pick attack. Beyond that, Ibanez's dyna-MIX10 switching system provides 10 different pickup combinations via a mini toggle and 5-way blade switch. Whatever tone you're hearing in your head, the AZ2202A can achieve it.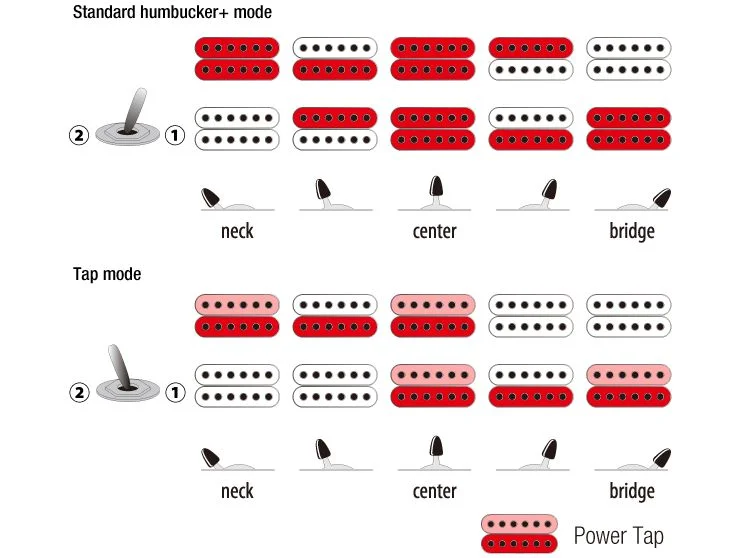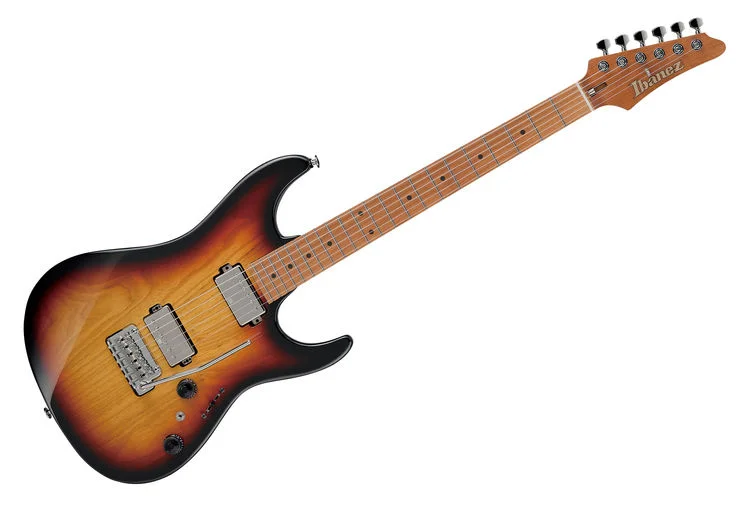 Ibanez Prestige AZ2202A Solidbody Electric Guitar Features:
S-TECH WOOD roasted maple neck and fingerboard offer stability and durability
AZ oval "C" neck profile fills your hand nicely down low while providing a more modern feel up high
Stainless steel frets add extra durability
Seymour Duncan Hyperion humbuckers excel at creamy clean tones and crunchy overdrive
dyna-MIX10 switching system provides 10 different pickup combinations
Gotoh T1802 tremolo provides excellent tuning stability
Luminescent side dots give you a great point of reference on dark stages